"Stories" from the Collective (YOU)
My Doubts and Insecurities
by Heather
(Canada)
I am in a great relationship with a GREAT man, and yet I cannot let go of his past - the past he spent with his wife, and the past that existed after her and before me. Why not? Why do I feel so insecure? Looking for online relationship advice specifically after some reading recommendations...


QUESTION: I love him, he loves me, so why do I feel so insecure?...
MORE FROM Heather...
Thanks for taking time to consider answering my concerns. Bit of background - I am 47 and divorced for 3 years. (I left that marriage of 19 yrs. due to abuse). I met a fantastic guy in March of this year. He was recently out of a marriage of 24 years. We connected right away. Life is so very good with him... most of the times. He is very smart, caring and affectionate. Love that about him!
Recently, however, I feel as though I have been having some insecurities as our relationship grows and deepens. And I wonder if it is my issues that are causing doubts and concerns.
I have NEVER had a connection with someone as I have with him. It is almost too perfect and it scares me. I am fearful of getting hurt - although he expresses how much he loves me, cares for me - and it is truly evident.
What bothers me?
Two big things (big to me, but not to him):
He still lives in his matrimonial home with his 2 boys. There is quite a bit of stuff that is still hers. It has been over a year now since she left him. I have been going to his place more frequently.

We decided to organize the kitchen. Lots of her stuff! He had nothing to do with the kitchen during their time together. Moving and touching her stuff really affected me!

The same deal when we put up the Christmas tree later that day. All her writing on the boxes. I did not like that at all.

Then I found a card he had given her to reconcile their relationship. It was a very overwhelming day! He noticed my "quietness". I expressed my concerns. He told me not to worry that he wanted it to be "our" stuff.

One great quality is his ability to communicate with me. He is adamant that that part of his life is over, he has found true love with me. Still it really bothers me.



Another issue that I feel I have is the fact that comments have been made about his past relationships. Is this insecurity on my part and how do I get over it?

For example, he has told me about his "first" date after his split. How she would not go out with him and the extent of what he did to try to get her to go out with him! It was over the top. I almost feel jealous? Not sure why?

Another incident was a conversation of attraction. He mentioned that he was attracted to a girl because she had lots of money....yes she was very cute....a bit too young. Nothing transpired - one date and she would not go out with him again. So then I start to think... I am not rich. Then I doubt my attraction!

He has asked me to be his "life partner". Marriage was not good to him, a wife was not good to him and not what he wanted in a long term relationship. Basically what I read is that he will never get married again.

Do I want this? Yes it would be nice, but not a must. I feel so very deeply for him - and understand his concerns due to his past relationship with his ex for 24 years. They existed under one roof but did nothing together. He nor his boys have seen or heard from her in over a year.
I am a very fit and attractive individual
- or so I am told. He tells me I could have anyone I want and he feels lucky to have me. His status of a Dr. sometimes scares me as people are drawn to people simply due to status quo.
I am on the other side of the fence - in fact, I reluctantly dated him through friends simply because of his position, fearing I could not "live" up to standards. He is not your typical doctor. - very down to earth - not pretentious in any way. One would never know off hand that he is a surgeon until you ask him what he does. He does not flaunt or brag.
I really wish I could get over his "past". I am almost envious of his wife. Here is a woman who he states he now realizes he was not truly in love with... yet he married her.
He tells me he has found true love with me... but will never marry? Would consider me his life partner, but not his wife? I think of all the experiences he has had with his ex and feel she is so fortunate to have shared that with him. Things I never will. Is this selfish on my part? Some days I feel as if I should step back but cannot - will that change anything? Likely not.
Sorry about the length of the message. I hope to hear from you with some guidance and or suggestions.
I would be open to recommendations for reading material
that may help solidify my relationship with someone I truly love!
Heather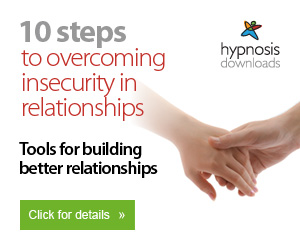 Overcome Your Insecurities: Here's How!
Comments for My Doubts and Insecurities