"Stories" from the Collective (YOU)
Living The Life You Love Book Review
by Steve M Nash
(Holmfirth, UK)
I've just started reading Paula Renaye's Living the Life You Love and I love it! I love it because the philosophies behind it mirror my own, right now; I love it that it's a no-nonsense guide; and I also love it that Paula doesn't claim to be putting all the answers into action in her own life (yet!).

So what we have is a guru-free practical guide to helping you take full responsibility for your life...

(Buy it now from Amazon.com
or Amazon UK
)


MY BOOK REVIEW of Living The Life You Love: The No-Nonsense Guide to Total Transformation



This is a classic self-help book that pretty much sums up my philosophies when it comes to personal growth: it's YOUR responsibility, and yours alone! And that includes what you take from others (teachers like Paula Renaye) and what you ignore, because it doesn't feel right (yet!).

As I said above, I've only just started reading this book, but I was very taken by what Paula wrote in the Introduction to the book that I decided to add this book to my very small collection of reviewed self-help books.

I also decided to include a sampling of those words, here, and use them as my review. So, if Paula Renaye's words resonate with you - and you're ready to start taking action when it comes to improving your life - then I highly recommend you buy Living The Life You Love.

Okay, Paula Renaye's words.... Early in her Introduction, Paula talks of a loving wisdom she wishes someone had shared with her a long time ago. This wonderful wisdom (that's really worth reading, and holding onto) concludes:

"Either you do what you need to do to change what you need to change, or admit that you don't want to and shut up about it."
Ouch! Yes, it is a no-nonsense guide for sure that Paula Renaye's book is offering. We do have to stop making excuses and start taking corrective actions.
More words...
"Choosing the no-nonsense, tough love approach takes courage... it's not about beating yourself up over where you are in this moment... [Instead,] acknowledge the past, accept responsibility... and focus on making better choices now."
I could go on...
I am going to keep reading this book, one chapter per day, and I'm going to do the exercises in the book, too, to help encourage further insights into my own life. And, if what I've shared above speaks to you, then I encourage you to buy this book and do likewise...
What do you think about Living the Life You Love: The No-Nonsense Guide to Total Transformation - do let me know! Please comment below.
Thanks,
Steve
DISCLAIMER:
I've come to kn o w Paula Renaye (via email) over the last year or so, not least because we joined forces on this
relationship advice forum
hosted at SelfHelpCollective.com. And so I now consider her to be a (virtual) friend of mine. Still, and despite this online friendship, I
only
add this book review here because of my opinion of this book!
Return to Best Self Help Book.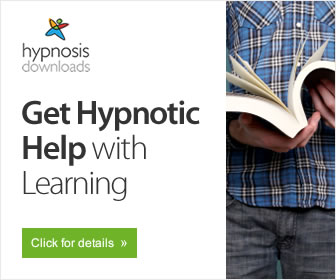 Get Hynpotic Help with Learning: Includes "Remember What You Read"