"Stories" from the Collective (YOU)
Dazed & Confused
by Lisa
(Ontario, Canada)
My on-off on-off relationship with my boyfriend just got MORE complicated as he got a woman pregnant recently (when I thought we were 'off for good'), and she's going to keep the baby. I still want to get back with him again, so I'm confused at what I should do. I need relationship advice - please help!...


QUESTION: What Do I Do Now My Man Got Another Woman Pregnant?...
MORE FROM Lisa...
My boyfriend & I were together for 2 years on and off. We usually would only break up for a couple weeks and still be in touch with each other. This last time I broke up with him in Aug. and told him that I was done for good. We did not speak for about 2 months and when he finally did call me I told him I had moved on and was with someone else.
I thought I was over him, but then came to find out I still loved him and wanted to be with him.
Well I guess after I told him that I was over him, he slept with another woman which I can't say anything about as we were broken up and he thought there was no chance of us getting back together.
However, now we are spending time with each other again and thinking about getting back together once more. I love him and want this so much. But last night he told me that about a week ago this woman he'd slept with told him she is pregnant and the child is his and she plans on keeping the baby.
He is upset: he already has one child and didn't want any more but there's no choice there now of course.
I am hurt, sad, angry, feel sick etc. as I just found out but I still love him and want to be with him.
I know that the most important person in all this right now is the unborn child. I know that if I choose to be with him then the child will be part of my life too. I want to stand by him and be with him through all of this and be a family with him and this child. I cannot have any more children of my own and have always wanted more so part of me is okay with it.
BUT... I am very confused and have nowhere else to turn to get some advice/opinions about this. Please help!
Lisa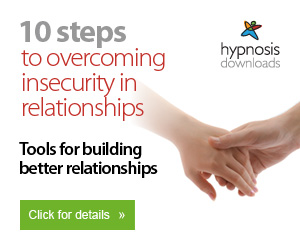 Overcome Your Insecurities: Here's How!
STEVE'S ANSWER
Phew! On-off relationships are tiring places to inhabit at the best of times - not being able to either fully leave the person or fully commit and be with that person. But when you add a real-life baby into the mix. Well, "phew!" is the word that comes to my mind...
"Why be in a difficult relationship when you can be single and enjoy life with one less problem."
-- Unknown
Okay, please understand that I don't know whether you should be in this relationship or you shouldn't. (Maybe you don't even know this.) I do know, though, that unless something is VERY different - either you behave differently, or your partner does - then the same breakdown in your relationship is going to happen. Again and again.
Add to the mix a real-life baby, and the fact that your man WILL have to have some kind of active relationship with this woman he got pregnant, then you are adding complications and difficulties to an already difficult situation.
So let me take on the mantle of Paula Renaye's 'tough love' here and bluntly say this to you: it's going to be really, really hard for you, but I believe that the sooner you break off ties with this man FOR GOOD the better for all concerned.
Yes, I may be wrong, and I don't particularly like to give direct relationship advice because no-one truly knows a situation other than those involved. But I believe trouble lies ahead, and the stakes got too high now.
(As for this man who got a woman pregnant despite the fact that he no longer wants any more children in his life, well a certain Homer Simpson expression comes to my mind! Er, what exactly was he expecting to happen having unprotected sex with this woman!)
It all smacks of that nasty disease we all suffer from, now and again, the dis-ease that goes by the name of
self-sabotage
.
You both deserve to be in great relationships I'm sure of that, where the joy of the relationship outweighs the pain considerably. Is this relationship you want to be in again such a relationship? And why do you really believe you can stop the on-off nature of your relationship THIS TIME? And why can't you both spend time on your own, rather than bounce from one relationship to another?
Harsh questions, yes, and I most certainly am not saying that I have not been involved in 'messy' relationships. So what I say to you IS easier said than done, but nevertheless I beieve that this one of those 'make or break' times in your life...
I wish you, him, the baby (when it arrives into this mad world we live in) and the other woman all the very best. And I hope others will share their (possibly different to mine) views here too - leave comments below).
Comments for Dazed & Confused