"Stories" from the Collective (YOU)
Co-dependency and Relationships
by Hanson G.
(Washington DC, USA)
Hanson knows a lot about co-dependent relationships (as you'll see). Still, in his relationship question he wants to know how to recognise co-dependent tendencies in relationships (can you help?)...


HANSON'S QUESTION: How do I distinguish co-dependent tendencies/behaviors from "healthy" ones in my diverse relationships?
Yes, confidence, self-esteem, and knowing what you're looking for are assets in a relationship. But they are only "symptoms" - phenomena related to a much bigger picture of who we can potentially be (or are!) as aware, wholesome, loving human beings.
Being a co-dependent in the more "classic" sense has enabled me to see dependencies in a clearer light than most "normal" people. Good, professional research into co-dependency in the last 20, 30 years has provided some real in-depth views into the nature of this phenomenon. Namely, that it primarily results from dysfunctional families, and that its tendencies carry on from generation to generation, without being recognized sufficiently by its members. In other words, particular kinds of conditioning and set patterns of thinking occur, much to the ignorance of the one experiencing them.
Here are a few key factors:
denial of one's condition,
blaming others,
letting others decide for you,
letting others set the standards for you,
living up to the expectations of others,
trying to be "good",
nothing being ever enough,
living up to unrealistic ideals,
believing in others more than in oneself,
being too hard on oneself,
lack of assertive skills,
un manageability of one's life,
and, most importantly, powerlessness over others (and oneself!).
It seems to be a lack of connection to (or concentration on) one's "true" Self. Letting the world and its phenomena be a source of constant distraction. Not good for attention-deficit types!
Interestingly, I found in my research how co-dependent tendencies occur within religious, sect, or ideology frameworks. The same patterns evolve within these groups as they do within particular family structures. This involves control, power, prestige, perfectionism. Authoritarian types are enablers for "predisposed" co-dependents, though I don't believe one is necessarily born a co-dependent.
I wish there was another word for
self-esteem
. Liking oneself should suffice! My goal is to be like a Buddha : unruffled, independent of the phenomenal world. But without proclaiming to be one. Maybe not in this lifetime! Still have to pay the bills and work on my co-dependency.
I guess what I'm also trying to say is, to
recognize the "spiritual" elements
(wholesomeness, goodness)
in "dysfunctionality"
(mine and the world's). Realizing my innocence and purity, and sharing it with the world. But ultimately being responsible for myself!
--
So
thanks for letting me "share"
, Steve. Sorry I haven't directly commented on your, or Paula Renaye's, question "Why are relationships so difficult?". But I think a lot of what I've written corresponds well to it.
You know that song "The Circle Game" from Joni Mitchell? It drives home how illusory life is : the constant repetitions of life's forces and rhythms, and how we're naturally attuned to, and dependent on, them for our (well-) being. But how everything is so fleeting. Whether we know it or not.
But it's also about discovering that which is in us that's independent of all that, as well. Don't you think?
Just writing this has been very inspirational. Thanks to your inspiration, Steve! Let's all be truly EMPOWERED!
Best, Hanson
YOUR ANSWER?...
(to Hanson's relationship question about co-dependency) -
Please comment below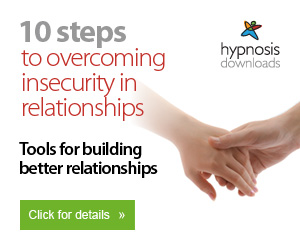 Overcome Your Insecurities: Here's How!
Comments for Co-dependency and Relationships